How to prepare for The Exam Success Formula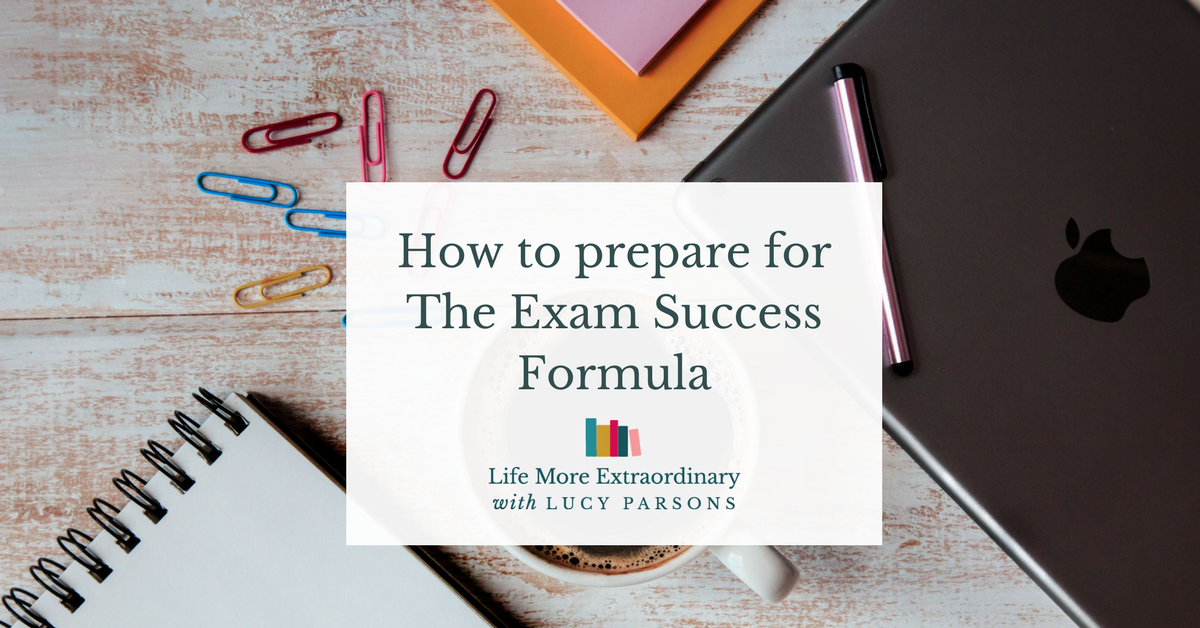 If you're thinking about signing up for The Exam Success Formula you might be wondering what you need to do to prepare. The Exam Success Formula is my course for parents and students that teaches the study skills, mindset and habits needed to reach your child's academic potential. It starts on 16th September 2017 and you have until 9pm on 15th September to sign-up.
How to prepare for The Exam Success Formula
1. Decide to step up and take part
I've done numerous online courses to help me develop my business, some of which I've paid a lot of money for (the most expensive was $2000). It was never an easy decision to invest that kind of money – but at the end of the day I knew that if I wanted to realise my hopes and dreams of sharing my knowledge with families and students to help them to succeed in their education, and making a good life for my own family, I had to step up.
When I invest any amount of money in myself it's really about taking that decision to step up and be a new version of myself by letting the knowledge and understanding that I gain change me for the better. It's about stepping out of the old ways that aren't working for me any more and finding a new way to succeed.
That's what I want The Exam Success Formula to be for you and your child – a fantastic chance to make a decision to step up and do what it takes to succeed. I don't want to see you fumbling through the next school year and seeing what kind of success you can make of it. I want you to take the decision now, at the beginning of the school year, to equip yourself with everything that it takes to succeed, and not leave anything up to chance. Education is too important for that.
If you're ready to make that decision you can sign-up here.
Step up and do what it takes to succeed.
Click To Tweet
2. Join the course to complete the introductory module
The day after you sign-up for the course you'll be sent an introductory module. This module is all about finding a planning and organisation system that works for your child. Give yourself a decent head start on the course by signing up in plenty of time to complete the introductory lesson before the week 1 module on motivation is released on 16th September.
3. Get organised
Create an email folder
The course materials will be delivered to you weekly by email. I've done lots of online courses which are delivered in the same way. To begin with, I used to let the valuable course emails linger in my inbox alongside all the marketing emails from Amazon and my favourite clothes shop, Seasalt.
However, now, the first thing I do when I sign-up for a new course is create a folder for the course emails. Whenever a course email arrives I put it straight in that folder so that I can always find all the course emails easily and I don't run the risk of accidentally deleting them.
If you use gmail it's even possible to set up filters that automatically put emails from certain addresses into a folder – so they never enter your inbox. This is a really neat way of keeping on top of your filing – especially if you know you can't always trust yourself to stay on top of your organisational promises to yourself. Here is some information on how to do this.
Get a folder and notebook
Each week when I email you the course materials there will be videos to watch and worksheets to complete. You will need to print off the worksheets so you'll want a way to keep them organised and all in one place. I suggest you get a ring binder with eight or nine dividers to keep all the different weeks' work separate from each other.
You may also want to get a book that you can use as a journal and a small notebook to use for writing down goals. I'm anticipating that some of the work we do on motivation and mindset will get you reflecting very deeply, if you're a student, and if you're a parent most of the work will require some deep thought and reflection so you may want to continue journaling it out, or writing on lined paper you can add to your ring binder, after you've completed each weeks' worksheets.
4. Allocate the time
If you commit to doing the course you need to allocate the time to make the most of it. You will need a minimum of one hour per week to do the course exercises that I set. Most weeks you will be engaged in one of the coaching calls (there are coaching calls for parents only, students only and parents and students so there won't be one quite every week for everyone). The coaching calls are on a Thursday evening at 7:45pm and scheduled to last for an hour. If you can't make them live they will be recorded for you to watch when you can – and you'll be invited to submit questions beforehand if you can't be there.
You will also spend a few minutes here and there interacting in the Facebook group – asking questions, talking to other course members and getting motivational tidbits from me!
We'll be talking more about time management in week 2 so if all this is a bit mind boggling – no worries, I'm here to help!
5. Introduce yourself in the Facebook group
There are two Facebook groups for the course – one for parents and another for students. As soon as you sign-up for the course you'll be sent an email with a link to the group that's appropriate for you. You just need to click on the link and request access. Once I've given you access you can come and introduce yourself on the welcome thread and start getting to know the other course members and share why you've joined and what you're hoping to get out of the course.
6. Get a copy of The Ten Step Guide to Acing Every Exam You Ever Take
This isn't essential, but having a copy of my book, The Ten Step Guide to Acing Every Exam You Ever Take, is the perfect accompaniment to the course. You might want to order yourself a copy and have a read to get yourself in the mood and the mindset to make the most of the course.
Are you ready to sign-up?
If you haven't already signed up for The Exam Success Formula and want more details you can check out the information page. If you're ready to sign-up, you can do that on the information page too. Just look for one of the big pink sign-up buttons.
I can't wait to start working with you!
(Visited 663 times, 20 visits today)