How to Stand Out in an Oxford or Cambridge Personal Statement or Interview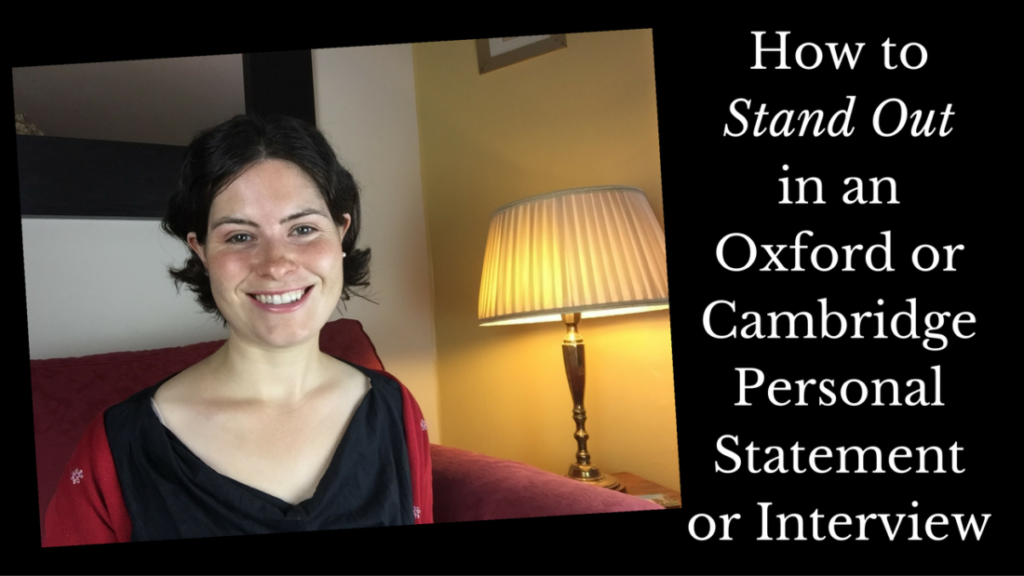 It's a question that comes up in the mind of anyone applying to the UK's premier universities: "How do I stand out from all the other candidates?"
The other day, Ami, a reader of my blog, wrote to me and asked me this exact question. Ami said:
"I'm applying to Cambridge and to be honest I don't feel I badly need to improve my grades- I gained four As at AS.

Of course I'm aware that nearly everyone has these grades when applying to Oxbridge. SO my biggest fear is what makes me different?! I'm applying to read English. Over the summer I've been immersing myself in particular genres and periods of literature to talk about in my interview. They're great evidence of my literary interests but I'm sure every other English applicant has done the same. (These are all included in my personal statement). I think I'm a good candidate because of my approach to learning; I'm VERY hardworking and ambitious, but I can also be creative and open minded, and I push myself to excel in what I do, and what I want to do is study literature at one of the top, if not the top, university in this country. How do I convince them of this?

If you had one piece of advice on how to really stand out to Cambridge, at interview and in my statement, what would it be?" 
I've answered Ami's question in the video below. I really hope that you find it useful too!
Watch the video: How to Stand Out in an Oxford or Cambridge Personal Statement or Interview
Other resources to help you stand out to Oxford or Cambridge
My e-course on writing personal statements will show you exactly how to tell you story in a captivating and compelling way so that admissions tutors can't help but notice your application. Find out more details about 3 Easy Steps to a Killer Personal Statement.
All my blog posts and resources showing you haow to apply to Oxford or Cambridge and actually get in can be found on my Get Into Oxbridge page. This includes my interview with Sam Lucy, admissions tutor at Newnham College on what she's looking for in a personal statement, and Steve Watts, admissions tutor at Homerton College and what he's looking for at interview.
If you're looking for more general advice on personal statements and how to get into other UK universities then check out my page on How to Apply to University.
If you've got more questions about applying to Oxbridge, or other UK universities, or you need more help book a free 15 minute appointment with me here. I can't wait to talk to you and help you get into your first choice of university at the first time of trying!
Do you have a burning question about applying to Oxford or Cambridge University? Leave it in the comments below and I'll be sure to answer. Good luck!
(Visited 9,567 times, 92 visits today)