[31] Teen Mental Health Today with Daniel Licence
Podcast: Play in new window | Download
Subscribe: Google Podcasts | RSS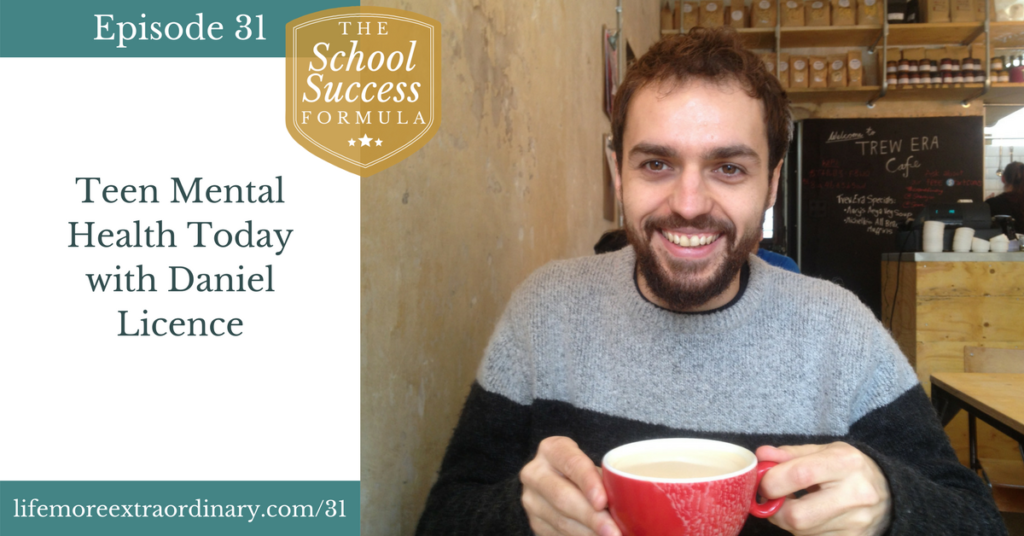 1 in 10 young people have a diagnosed mental health problem – and 70% of those don't get the proper intervention at an early enough age. We need to keep an open discussion about mental health, so we can learn more about the symptoms and reduce the problems.
I speak today with Daniel Licence, a mental health adviser at Osborne Cawkwell, a tutoring agency in London. I first met him at a teen mental health seminar run by The Tutors' Association, and he was the main speaker. It was so informative so I decided to have him on the School Success Formula Podcast.
Osborne Cawkwell has trained their tutors to deal with mental health amongst their students, and Daniel finds that the one-to-one dynamic provides a better situation for monitoring and identifying mental health issues than the classroom environment in schools. With body changes, social needs and pressures, being a teenager is a confusing age – it's important to monitor and keep an eye on your children or students.
On this show, Daniel shares the 4 main types of teen mental health problems, as well as how to spot the early signs and get treatment – he also shares his personal experiences with depression and anxiety.
About Daniel Licence
Dan is a mental health adviser at OC, and a facilitator at Ruby Wax's Frazzled Cafe. He is a trained Mental Health First Aider with a Level 3 diploma in Mental Health, and qualifies as a mindfulness teacher in February. He also has had personal experience of depression and anxiety, which he shares on this show. He believes that to educate young people, tutors need to be more well-rounded with mental health training – and not just focus on the academic side of their students.
He also does stand-up comedy – it proves to be a great platform to tackle anxiety head-on!
What you can expect to hear in this episode
Working with people with mental health problems
The mental health picture for teenagers in the UK
The key types of mental health problems that young people suffer from
Daniel's own experiences with depression and anxiety
The impact of social media
The signs and symptoms that a young person might be suffering from a mental health problem
What should people do if they suspect that someone they know and care about is suffering from a mental health problem
Consulting the GP about mental health
The available treatments for people with mental health problems
CBT therapy and psychotherapy
Finding help through: NHS, Charities or Privately
Ways people can help themselves
The effects of positive psychology
Extra links
Daniel's article about teen mental health in The Tutors' Association
American Psychiatric Association
Tim Ferriss on his depression: Marie Forleo interview
Podcast interview with Caren Baruch-Feldman about grit
The Marshmallow Test by Walter Mischel
Mental Health First Aid Course
Osborne Cawkwell interview with Dick Moore on suicide
Where to find Dan online
Twitter: @danlicence or @osbornecawkwell
Osborne Cawkwell Tuition Website – People can go to the "Mental Health" section to find out more about me/Mental Health stuff.
Last chance to sign up for The Exam Success Formula this school year!
The doors are closing to The Exam Success Formula, by study skills course for students and their parents, at 9pm on Friday 19th January 2018. The course teaches the habits, mindset and study skills that all students need to reach their full academic potential.
Click here to find out more and sign-up
Useful links
My book, The Ten Step Guide to Acing Every Exam You Ever Take.
Ten Steps to Exam Success download.
Supportive Parents, Successful Students facebook group
Lucy on twitter: @LucyCParsons
Contact Lucy by email: lucy@lifemoreextraordinary.com
If you'd like to suggest yourself as a guest for the podcast, please complete this form.
(Visited 667 times, 9 visits today)