[35] SPD: Dealing with heightened senses and Sensory Processing Disorder with Becky Lyddon
Podcast: Play in new window | Download
Subscribe: Google Podcasts | RSS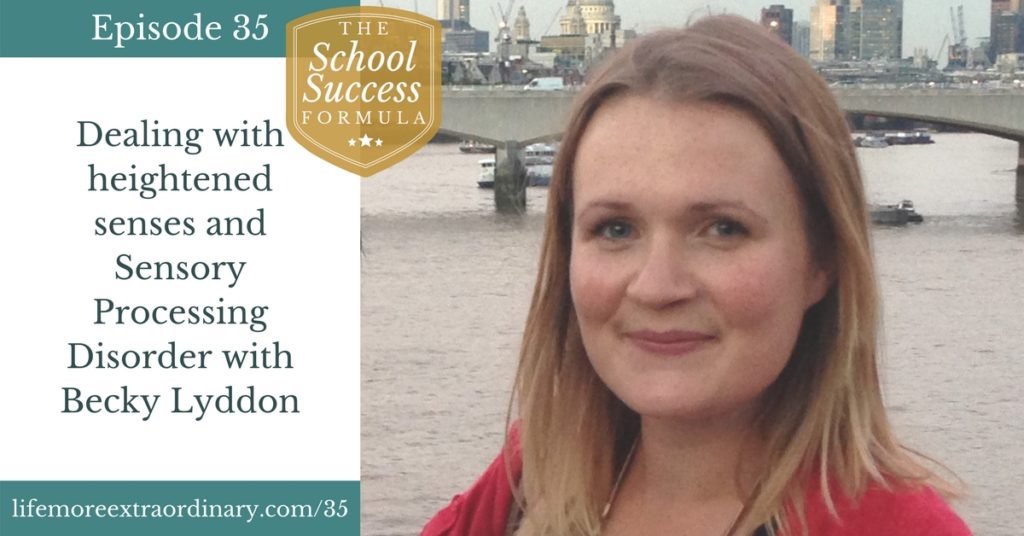 When we're nervous we tend to fiddle – we want to be aware of our bodies to keep ourselves alert. For those who suffer from Sensory Processing Disorder (SPD), senses are even more heightened so sufferers find alternative ways to calm and process their senses. SPD comes in many forms, including distorted hearing, sight and touch. Our guest today is Becky Lyddon, Founder of Sensory Spectacle. She explains what SPD is, how it affects people and what you as a parent can do to support your child.  
About
After having worked in a centre in London that supports children and young people with complex health needs and disabilities, Becky discovered the autistic sensory world. This inspired her to educate the public on how people with SPD may experience their surroundings and thus she launched Sensory Spectacle in 2014, which includes experiential art installations, workshops and presentations. She has a background in Graphic Design, and has a Masters from Central Saint Martins School of Art.
What You Can Expect To Hear
What is Sensory Processing Disorder (SPD)?
How SPD impacts daily life
Identifying and diagnosing SPD
Who mainly suffers from SPD?
The signs that your child might have SPD
How SPD affects learning
How an understanding of your child's SPD helps support their learning
Becky's art installations
How fidget spinners can help SPD
How technology affects SPD
Useful Links
Sensory Spectacle YouTube Channel
Where You Can Find Becky
Related podcast episodes
[25] Everything you need to know to support your child with Attention Deficit Disorder
[18] Supporting a child with Asperger's Syndrome
[15] How to use the senses for deeper learning and better memory with Joanna Grace
[9] Overcoming Barriers to learning with Sheila Mulvenney
My book's birthday!
Today, 14th February 2018, is my book, The Ten Step Guide to Acing Every Exam You Ever Take's first birthday. I've had a special birthday video created to celebrate how the book has helped people with their exams and ultimately changed their lives.
Click here to watch the video and celebrate with me.
Useful links
My book, The Ten Step Guide to Acing Every Exam You Ever Take.
Ten Steps to Exam Success download.
Supportive Parents, Successful Students facebook group
Lucy on twitter: @LucyCParsons
Contact Lucy by email: lucy@lifemoreextraordinary.com
If you'd like to suggest yourself as a guest for the podcast, please complete this form.
(Visited 835 times, 5 visits today)