The Essential Back to School Stationery List: 18 Items that will propel you towards exam success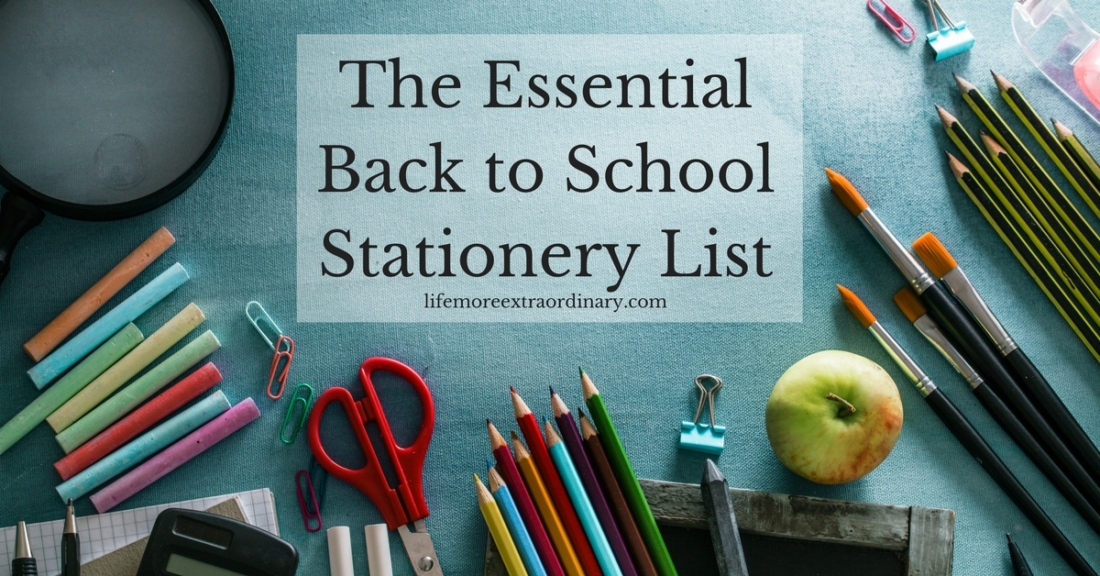 There's something truly wonderful about the start of a new school year. It's like a magnified version of the freshness of spring blossom on the tress, the good intentions of New Year's Day and the promise of a brand new exercise book waiting for you to fill it with your learning.
Back to school is also full of rituals. Buying new school shoes, choosing a new bag, having a 'last supper' with your family before you head back to school the next day.
One of my favourite rituals when I was at school was the back to school stationery shop. My family turned it into something really significant by making a special trip to Cambridge towards the end of the summer holidays every year. Cambridge is about an hour and quarter's drive from my village so the perfect distance for a day trip. We'd park on the backs, walk up through the colleges, soak up the atmosphere, go stationery shopping in Paperchase and have an Italian ice cream from one of the tourist carts to finish the day (my ice cream was always banana flavour!).
This annual ritual was important on two levels. Firstly, it got me practically prepared for the school year ahead. Secondly, and I've only really realised this as I prepared to write this post in my head, it reminded me of, and reinforced, my ambition to go to Cambridge. I'd wonder around the city choosing which college I'd like to go to and visualising myself in that environment as a student in years to come. It was an annual chance to fire up my ambition for the school year ahead.
Anyhow, back to the subject of this post. As one reader wrote to me to ask "What should I buy to be ready to start college in September?"
The Essential Back to School Stationery List
The Basics
When I was a teacher I always used to start written reports with a sentence about whether each student turned up to lessons 'ready to learn'. I was talking about their attitude but also about the kit they brought with them to lessons. My minimum requirements were:
If you have these three things you'll do just fine in about 80% off your lessons.

The Good-to-Haves
In addition to the basics it's good to have some other bits and pieces too, so you're not begging, borrowing (and hopefully not) stealing from your classmates. I'd also say that, as a teacher, it's really frustrating if your students don't have the right kit and you have to spend time just getting them to the position where they can start the basic tasks you've set them. You're there because you want to teach, not because you want to be a stationery supplier!
Rubber
Pencil sharpener
Spare pen
Spare pencil
Maybe some coloured pens
Colouring pencils
If appropriate, mathematical equipment e.g. scientific calculator, set square, protractor, compass (you'll need these for maths and other subjects where you draw graphs like science and geography).
A pencil case to keep it all in

Keeping yourself organised
On top of all this kit you'll want some organisation aids. Here are my essentials:
An academic year planner – sometimes school will give you one. I preferred to buy a pretty one of my own that I could really take ownership of. These days you might like to plan digitally (but I still don't think you can beat pen and paper for planning).
A4 Lever Arch files to keep at home – one for each subject that uses loose paper. If you're using an exercise book for a subject this won't be necessary.
A thin A4 ring-binder to carry with you to keep your most recent work in
Dividers – to divide up topics and modules in the lever arch file and subjects in the A4 ring binder

Paper
You'll also need something to write on!
Lined paper – everyone will need this
Plain paper – I think it's an excellent idea to have some of this
Graph paper – depending on what subjects you're taking
Over to you
I hope this list covers all your back to school stationery needs. It includes everything I believe a successful student needs in their stationery kit.
If you'd like more help getting organised for the new school year, join The Extraordinaries Club and do the first module – Systematise Your Success. It includes more tips on how to use stationery, which stationery you need for different stages of your education and tips on planning systems to suit every personality. It's the foundation of a good start to every school year.
Click here to find out more about The Extraordinaries Club and join.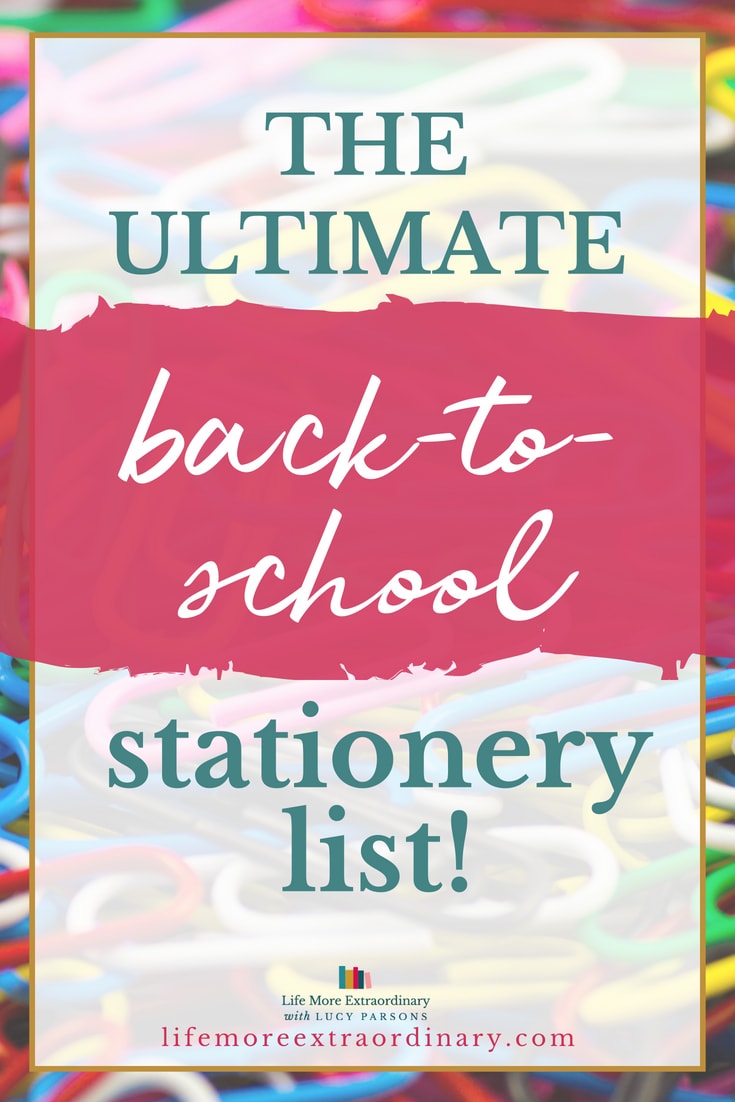 (Visited 11,280 times, 62 visits today)