15 Christmas Gift Ideas For Students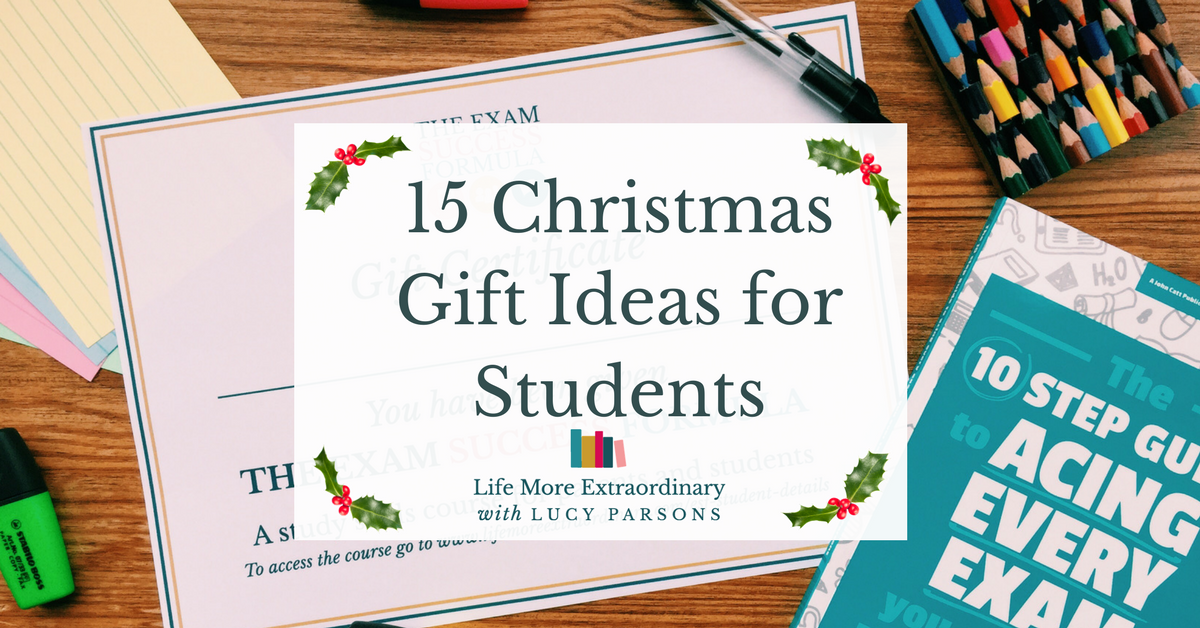 It's that time of year again. Making a list, checking it twice, screwing it up in a ball of frustation and wondering whether you really have got the right idea of what to get for the GCSE or A Level student in your life.
My gift buying philosophy has always been, as William Morris would put it, to get something both beautiful and useful. The things I've picked out in this post will serve just this purpose.
15 Christmas Gift Ideas For Students
1. Motivational print
Every student needs to feel motivated in order to do their very best in their exams. With this in mind, why not get them a motivational print or poster to put above their desk to pick them up when their mood and determination is down? I love this one from Bespoke Verse but there are many others out there to choose from.
2. An inspirational mug
How amazing would it to have a sip of inspiration with every slurp of tea while the student in your life is revising? That's exactly what they'll get with this super inspiring quote from Mohammed Ali on this mug from The Mug Hermit on Etsy.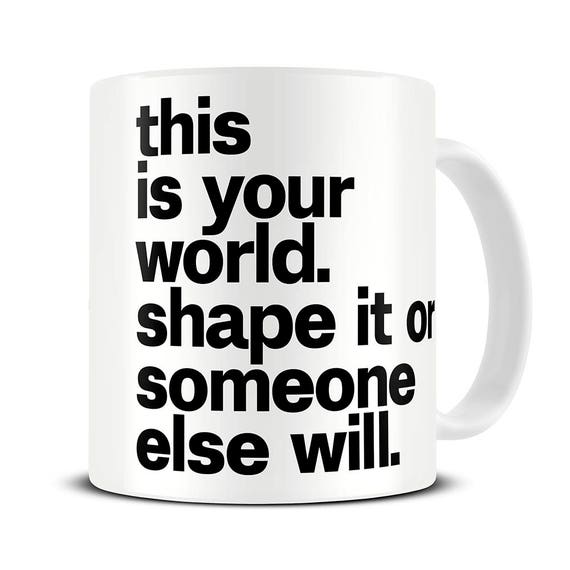 When I searched Etsy to find motivational mugs I had a really tough time choosing which one to feature here. If this isn't quite your thing, I suggest you go and have a look to see what else they can offer.
3. A large wall calendar
One of the best ways to stay organised and on track with time is with an really big wall planner. I love the one below from doodlelove on Etsy, but there are also perfectly serviceable (but less pretty) ones on Amazon.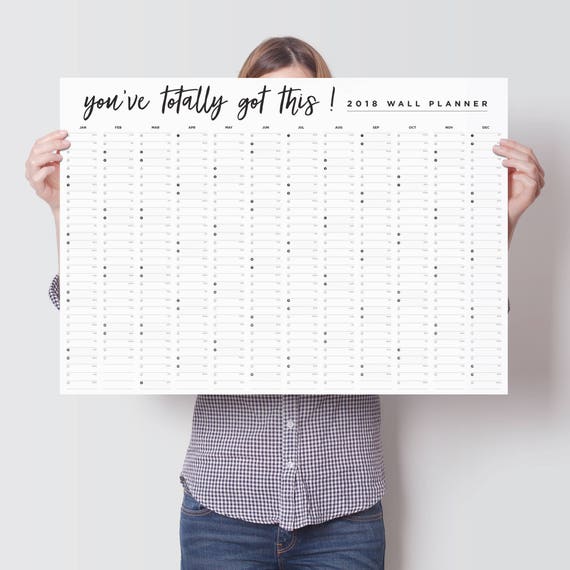 4. A coaster to put the mug on
I adore these recycled pencil coasters – I've got one on my own desk I love them some much!
5. Post-it notes
Post-it notes are fabulous revision tools. You can use them to mark up pages in books, write down things to remember and stick them on larger posters and move them around to check your memory and understanding. Their bright colours also cheer up a student's desk.
6. Highlighters
Just highlighting notes is not a great way to revise – it's too passive – but highlighters can be used creatively to make revision notes and flash cards more memorable. They're a great stocking filler too!
7. A whiteboard
Whiteboards are another great way to revise. My husband studied maths at university and he has lots of tales of all the maths students getting together to work out problems on a white board in one of their rooms.
Writing on a whiteboard is a safe place to play with ideas in any subject. Unlike writing on paper, you know that what you put on a whiteboard is only temporary and so it feels like there are lower stakes to just being playful and experimenting with an idea on a whiteboard.
8. A pin board
A pin board is a really valuable place to put your school timetable, your revision plan, posters you may have made to revise from, your vision board (to keep you motivated), any motivational quotes or postcards as well as good luck cards and congratulation cards.
9. Revision cards / Index cards
Index cards were my very favourite way to revise when I was doing my GCSEs and A Levels. They're a great way to divide what you need to learn into bite-sized chunks and really effective for testing yourself. I've got a pack of coloured revision cards just like the ones below that I share with students when I go into schools. I love the fact that they're coloured because the different colours will be another aid to memory and you can use a different colour for every subject.
10. Coloured pens
Like highlighters, coloured pens are a great way to make revision notes, posters and revision cards more interesting and memorable to look at.
11. A2 or A3 paper
Making revision posters and mind maps is a great thing to do for effective revision and having a really large piece of paper is a great place to do this. An A2 or A3 pad would be a great gift for a student.
12. A Leuchtterm 1917 notebook
Leuchtterm 1917s are the creme-de-la-creme of notebooks. I bought one recently to start a bullet journal (bullet journalling is a highly personalised way of keeping yourself organised, tracking your goals and habits and keeping a record of things that you've done. They're not cheap but the attention to detail is incredible: there's an index page, every page is numbered, there's a pocket in the back for loose items and they even give you stickers for the spine so you can easily find it on the shelf once you've finished with it.
13. Top quality pens
Writing is always more pleasurable when you're using a good pen and the ink is flowing smoothly. Treat the student in your life to some decent quality pens this Christmas.
14. A book about how to study
It's all very well having all the tools to study and revise, but if you don't know how to put them to good use and get the results you want, it's all a bit pointless. My book, The Ten Step Guide to Acing Every Exam You Ever Take, will give every student the guidance they need to get the grades they deserve and it will fit inside a Christmas stocking.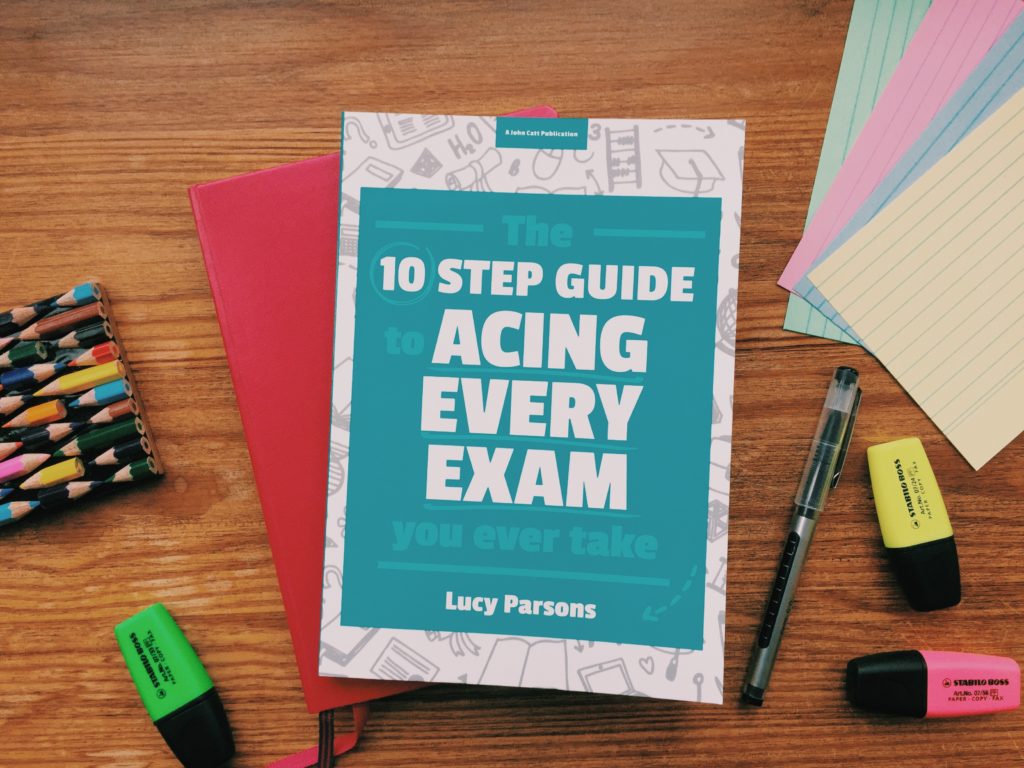 15. My study skills course for parents and students, The Exam Success Formula
If you want to go one better than the book then enrolling yourself and your student into my study skills course for parents and students, The Exam Success Formula, could be the best thing you've ever done to help your child to reach their potential and also improve your relationship in the process. The course is available at the early bird price of £245 until 24th December at 9pm. After that, the price will increase to £295. The next round of the course starts on 20th January. I have had a gift certificate specially designed so that you have something physical to give your student on Christmas day (see the picture below).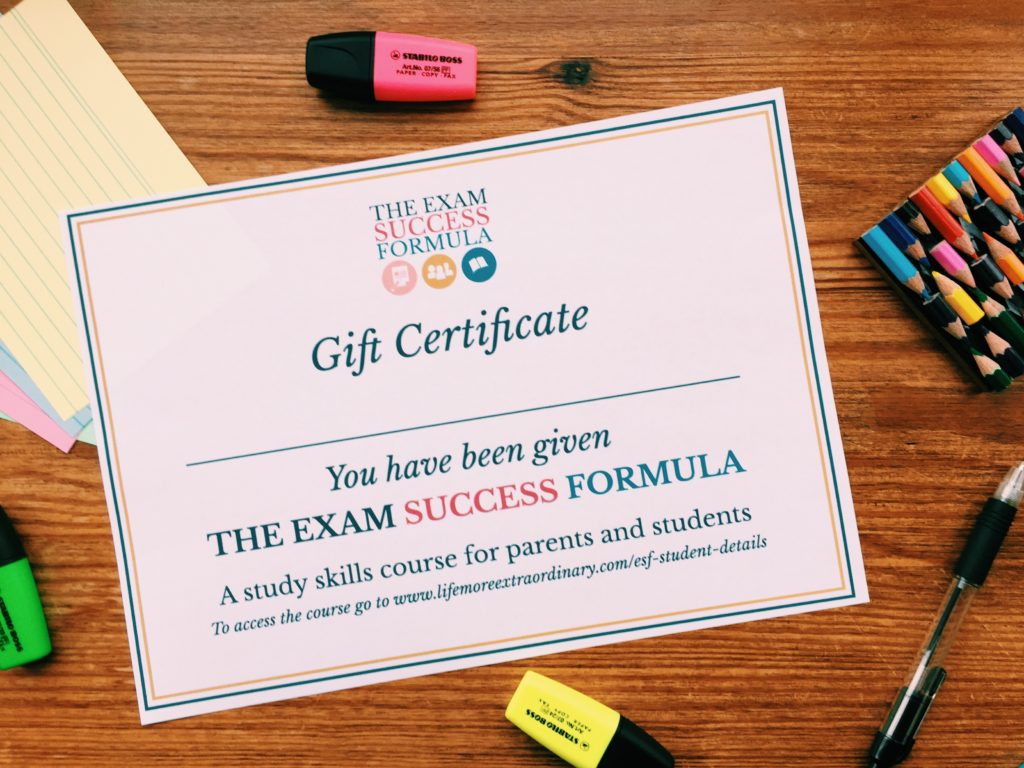 I hope you've found some inspiration amongst all these ideas.
Happy Christmas!
All links to Amazon are affiliate links. If you buy something after clicking on one of those links I will earn a small commission. Thank you for supporting me and my business.
(Visited 2,683 times, 11 visits today)