[21] How to set meaningful goals with your children with Shola Alabi
Podcast: Play in new window | Download
Subscribe: Google Podcasts | RSS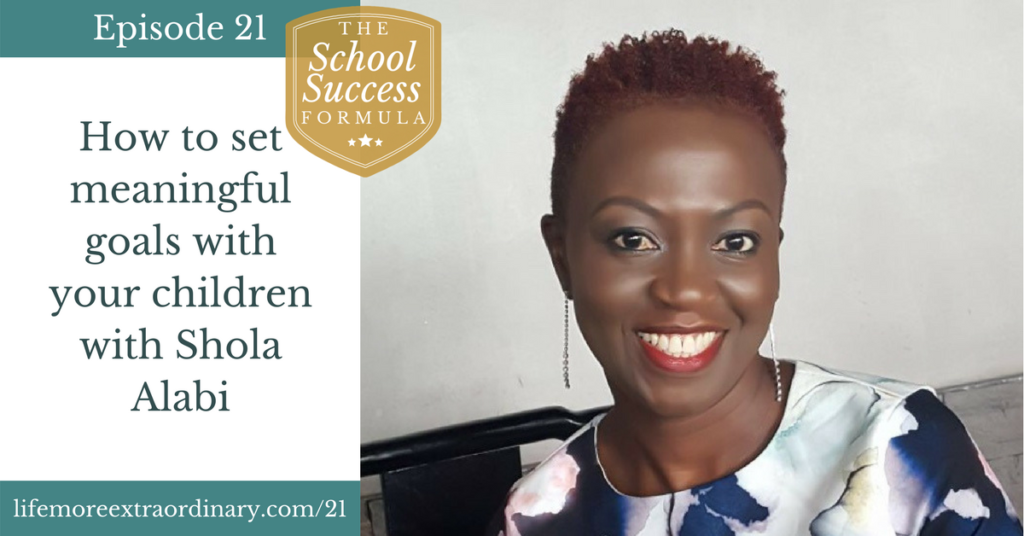 Have you ever spotted gaps in your child's knowledge or weaknesses in their skills? Have you wondered what you can do about it without upsetting them?
In this episode of The School Success Formula, qualified teacher, owner of two tutoring centres and author Shola Alabi explains to us how to set meaningful goals for our children. We're talking about goals that don't just help them to improve their academic attainment, but also to become healthier better people.
What you can expect in this episode
Shola fills us in on her background and how she came to be helping parents to support their children to reach their potential.

Shola explains how she discovered goal setting as a way to motivate and focus her own children and how she has helped other parents to implement goal setting into their family life.

Shola and I talk about how to make goals meaningful and measurable.

Shola and I talk about goal-setting pitfalls and how to avoid them.

Why it's important to understand your child's learning style to help them to reach their full potential.

We announce Shola's live workshop for parents, Start The Year Right, which is happening on 1st September 2018 in London.
Things mentioned in this episode
7 Powerful Mini Study Habits to Supercharge Your Grades
Free extract of Lucy's book, The Ten Step Guide to Acing Every Exam You Ever Take. Use this to help you to understand how your child learns best.
Parents, Understand Your Child by Shola Alabi (this is the book that we discussed in the episode).
Parents Get Organised: A Handy Planner for the School Year (Shola's family planning planner).
Start the Year Right workshop in London – click the link to find out all the details and book your ticket.
Where to find out more about Shola
Facebook: Shola Alabi
Twitter: @sholaalabs
Instagram: @sholaalabs
Youtube: Shola Alabi
Useful links
My book, The Ten Step Guide to Acing Every Exam You Ever Take.
Ten Steps to Exam Success download.
Supportive Parents, Successful Students facebook group
Lucy on twitter: @LucyCParsons
Contact Lucy by email: lucy@lifemoreextraordinary.com
If you'd like to suggest yourself as a guest for the podcast, please complete this form.
Join the waiting list for The Exam Success Formula
If you'd like to save £50 on the price of my study skills course for parents and students, The Exam Success Formula, you can sign up for the waiting list. At the end of November I will open up registration and you'll be the first to know when I do. Places on the course are limited so that I can give each family the attention they deserve so this is the opportunity to save money and secure your place on the course.
(Visited 957 times, 11 visits today)