[50] How to revise when you're grieving with Dipti Tait
Podcast: Play in new window | Download
Subscribe: Google Podcasts | RSS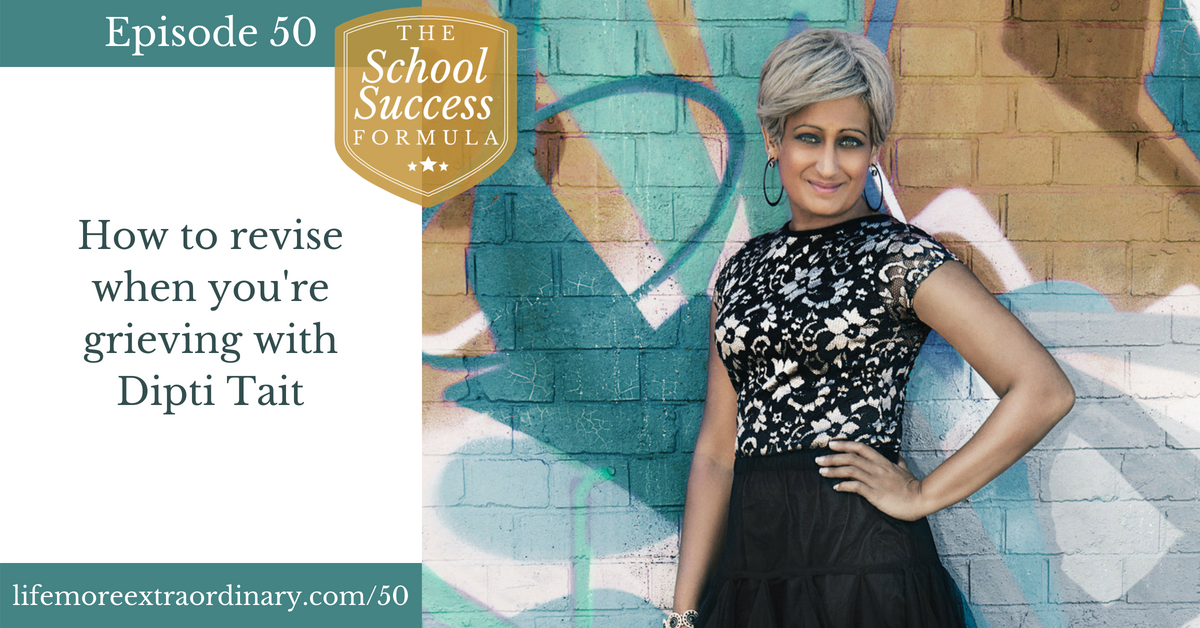 Every year, students or parents very sadly contact me to ask how to revise for exams and do their very best alongside grief. Grief expert and hypnotherapist Dipti Tait joins the show to uncover the grieving process, and how you can use grief to help you and not hinder you. Having experienced personal loss herself, Dipti highlights grief's unpredictable nature, but through the power of emotional intelligence we learn how to be kind to ourselves and that "it's okay to not be okay".
About Dipti
Dipti is a Clinical Solution Focused Hypnotherapist and Grief Expert, and author of 'Good Grief – A Companion to Change and Loss'. She is also the mother of two teenage boys.
What you can expect to hear on the show
Dipti's own personal experiences of loss and how she came to be a grief expert
What is Emotional Overwhelm?
What is grief?
How the brain process grief and loss
How can people best cope grief
The 'Stress Bucket' in hypnotherapy
The power of meta-cognition
The 'No-Yes' principle
The 'Lemon Exercise'
The 'Google Brain'
Where to find out more about Dipti
Dipti's book: Good Grief
Work with Dipti Online
Work with Dipti in Real Life
Twitter: @Dipnotherapy
YouTube: Dipti the Hypnotherapist
Resources
'Thrive' by Arianna Huffington
Over to you…
I'd love to know what you think about the ideas I've shared here. Let me know in the comments below!
Useful links
My book, The Ten Step Guide to Acing Every Exam You Ever Take.
Ten Steps to Exam Success download.
Supportive Parents, Successful Students facebook group
Lucy on twitter: @LucyCParsons
Contact Lucy by email: lucy@lifemoreextraordinary.com
(Visited 912 times, 6 visits today)