Mapping a path to exam success: When should I start to revise + other revision questions answered
This is the third post in a three part series. Read Part 1 and Part 2 first.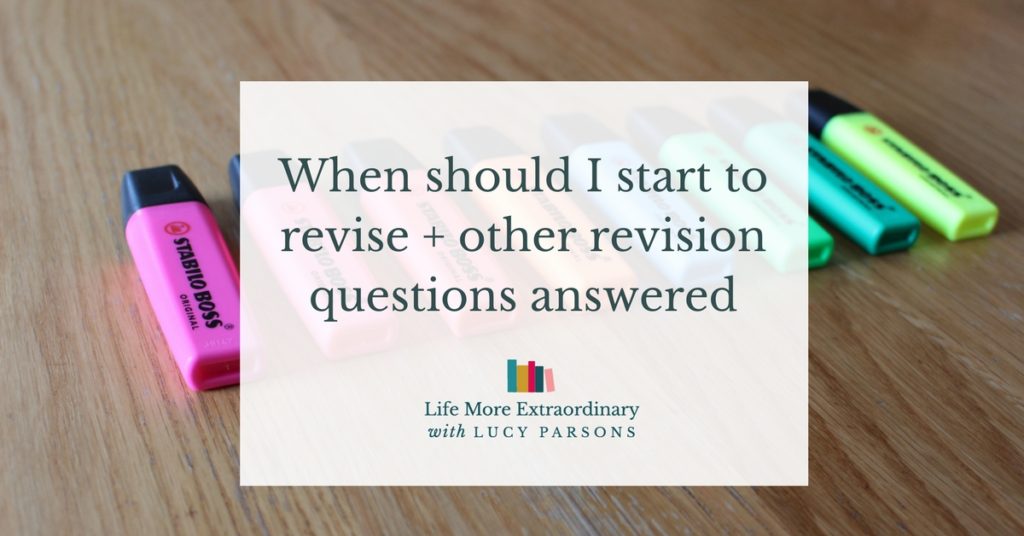 Since publishing my first post (about revision planning) on this blog less than a month ago I've been inundated with questions from people like you about their revision. I've been absolutely delighted to receive all your messages and to be able to answer them individually. It's particularly lovely when you write back to me and tell me things like this:
"Wow! I would just like to say thanks for replying, I am so happy you reply to us like individually. I found your advice really helpful. Thank you so much for answering!" Faith
"I can honestly say that your emails are really encouraging me and getting me through my revision, I would just like to say a big thank you!" Lewis
It's wonderful to be able to help so many people with all the experience I've gained over the years. In fact, I glow with happiness about the good I'm doing on a regular basis!
Even though I'm now primarily a stay at home mum with two small children, I've found a way to share the wisdom I learned from getting 5 A grades at A-Level, going to Cambridge and four years teaching in secondary schools.
Today, I'm going to make a start on answering some of the questions I've been asked. Read to the end of the post to find out how I'm going to carry on answering questions, for the benefit of everyone, over the next week or so.
Your revision questions answered
When should I start to revise?
There is no right or wrong answer to this question. It is best for your memory if you include time in your revision plan to go over each topic area several times. You should also plan to have enough time to go over everything on every exam syllabus you are following. Once your teachers have finished teaching the course you should definitely be revising, but you can start before, especially if your teachers are leaving it a bit late to finish the course.
As you're drawing to the end of the course, make a deal with yourself to work for a certain number of hours every evening. I'd suggest a minimum of 2.5 hours at GCSE level and 3 hours at A-Level. Once you've finished doing any school work that has been set, spend the rest of that time doing revision.
Really, the sooner you start revision, the better.
How can I organise my time effectively?
Have a well thought-out revision timetable that covers the whole of every syllabus you're covering. Also, take purposeful revision breaks so that you never lose your motivation to keep going.
Am I revising in the right way?
I had this question:
"My GCSEs start in about 3 weeks' time and I have been using the revision style that I feel works for me, for around 3 months. However, my friends have made flashcards, like over 500 of them, whereas I have written short notes and have highlighted paragraphs in my notebooks that I have written out, from memory and also text books. Should I branch out and make other sources of revision like flashcards? Or should I stick to my notebook note making which I have been doing?"
My advice here is to stick to what's working. Everyone has different ways of learning and everyone has different ways of revising that work for them. So, if you've found something that works for you, no matter what your friends are doing, stick to it. It's also a bit late in the day to start re-making all your revision resources. You'd be better doing loads of practice exam questions because that's where you'll pick up the exam marks that could push you over the next grade boundary.
What are the best things to do in the last bit of revision before the exam?
Look after yourself. By now, if you've followed the advice above, you will be incredibly well prepared for the exam. Gently read over your notes to reassure yourself that you know your stuff and then give your brain and body some time off so that both are ready to perform their very best tomorrow. A tired brain will never do as well in an exam as a well-rested one. Rest is as important for being able to remember stuff as actually doing the revision.
How can I ace every exam I ever take?
When I read the questions I've had from eager, hard-working students like you, what I really see, reading between the lines, is a deep desire to know the over-arching method to get outstanding results every time you take an exam.
I sense the anxiety and fear in a question like 'What are the best things to do in the last bit of revision before the exam?'.
I see the inexperience and lack of confidence in your own ability to get everything done in a question like 'How can I organise my time effectively?'.
Self-doubt resonates from the question 'How do I get motivated, and stay motivated?'.
Rather than answer all these questions one-by-one I want to offer you a whole solution. I want to condense my years of experience as an over-achieving student and a conscientious teacher and examiner into one resource that will guide you through this minefield of uncertainty. I want to take you by the hand and guide you step-by-step along the journey I have taken many times before. I want to see your confidence in yourself and your abilities grow day-by-day so that you arrive in the exam hall, pencil case in hand, feeling a steady belief in your ability to prove yourself in the here and now, rather than having a nervous sweat overcome you as you take your seat.
Most of all, I want to see you achieve your full potential. Not only in these exams, but in your whole life. I know that getting the grades you deserve will open the doors to so many amazing and worthwhile opportunities in your future, and I want to pass you the key to unlocking those doors.
This is why I have shared all my secrets to success in my book, The Ten Step Guide to Acing Every Exam You Ever Take. In the book I have written out the route-map that everyone can follow to enter the exam hall feeling full of confidence, and open their exam results to see the grades that fully reflect their unique abilities, gifts and talents. The book is available for a short time at a reduced price, so take your chance to snap it up now! If you're not already signed up to receive my emails, sign-up for free updates to ensure you know when the book's available.
Any more questions?
If you have any more questions about revision at all, please leave them in the comments below. Over the next week, to celebrate the launch of The Ten Step Guide to Acing Every Exam You Ever Take I'm going to be answering your questions as short video clips over on my facebook page. I'll tell you now, I'm going way outside my comfort zone doing this. You'll have to excuse me if my hair isn't perfectly done and you'll have to accept that I only wear make-up on VERY special occasions. But, I wanted to connect with you and answer your questions on a more personal level. So, go over to my page now and give it a like. You can also leave your revision questions on my facebook page.
(Visited 3,185 times, 44 visits today)