What are supra-curricular activities?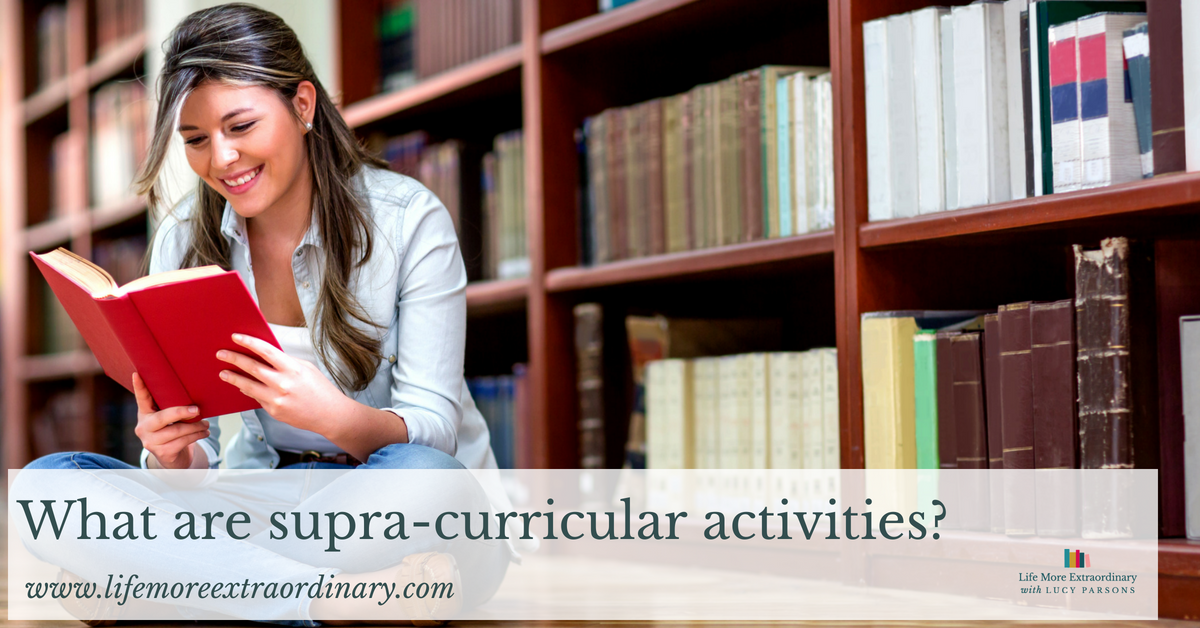 You've probably heard of extracurricular activities, which are the things that you do over and above the curriculum, such as sport and music. However, do you know what supra-curricular activities are and why they are important?
What are supra-curricular activities?
Supra-curricular activities are things that you do to extend and deepen your knowledge of the curriculum. They include things like reading books or magazines that extend your knowledge of the curriculum, following media stories that concern developments in a subject that you're studying, watching a film based on a novel, play or historical event that you're studying, or visiting a place that is connected with your subjects.
Why are supra-curricular activities important?
Supra-curricular activities are important for several reasons.
If you're applying to university, they help to demonstrate to the admissions tutors the level of passion and commitment you have to the subject. They also enable you to develop your thinking about your subject so that you are able to write about the subject with more depth and authority in your personal statement, or talk about them with confidence in your interview. This is particularly important if you're applying to Oxbridge or the top Russell Group Universities.
They deepen your understanding of a subject and help you to fall in love with it. I have always found, through my own studies, that the more I know about something, and they more I steeped myself in it, the better I understood it and the more passion I felt for it. An example would be my deep interest in the second world war. Ever since I first learned about it at primary school I have devoured films, books, documentaries, museums and conversations on the subject. This means that I have a very nuanced and deep understanding of the period. Similarly, in geography, which is the subject that I studied at university, I have developed a deeper understanding of places and issues that I have studied by visiting them. This was particularly true of coral reefs. Just seeing the tourism around the Great Barrier Reef, listening to the people who lived and worked around the coral and taking my time to educate myself on the spot gave me a much better understanding.
How to develop supra-curricular activities
1. Identify the subjects you want to know more about
You can't go deep with every subject you study at GCSE, or even at A Level. So, first you need to identify which ones you're sufficiently interested in to learn more about them.
2. What resources are available to you?
Think about what resources are available to you for free, or at little cost, to help you learn more. There might be books on your shelves at home or in the school library. Your parents might take a magazine, periodical or newspaper that covers the subject. The school library might stock magazines or periodicals on the subject. If they don't, ask the school librarian.
3. Ask your subject teacher what you should be doing
Your subject teacher should be abreast of developments in your subject, what books are worth reading and what websites or magazines it's worth reading. They might even lend you some stuff.
4. Think about what else you could do
Is there somewhere you could visit, a personal project you could do or a volunteering opportunity that would help? Try to go beyond reading and really engage with the subject in the world around you.
When should you start?
You should start with this stuff as early as possible. I already do it with my children, who are nine and seven. If they express an interest in something they're studying at school, or start a topic I can help with, I find something to do. When my daughter studied castles in when she was in reception class I took her to two castles, when she did rainforests I took her to the tropical house at Cambridge University Botanic Garden. There were rumours that my son was going to be learning about Beatrix Potter one term at school, so I read all the books to him and took him to the Lake District to see her house and the gallery with all her artwork.
If you're doing it with an eye on a university application, particularly to a top university like Oxford or Cambridge, I'd suggest starting no later than the summer of year 11.
Do you need some help with this?
If you're not confident about doing this alone, I can help. In UCAS Personal Statement Masterclass I will be:
Sharing the 7 types of supra-curricular activities that all prospective university students should consider;
Helping them identify which supra-curricular activities they need for their chosen university courses;
Supporting them to create a plan of action to put it all into place.
Students who sign-up for the UCAS Personal Statement Masterclass will also get access to my e-course on writing personal statements, Your Complete Guide to a Winning Personal Statement.
Find out more about the UCAS Personal Statement Masterclass here. Or, if you've got younger children, there is a whole module on how to make supra-curricular activities part of family life inside The Extraordinaries Club.
(Visited 8,497 times, 57 visits today)