[52] When to start a UCAS application – the timelines explained
Podcast: Play in new window | Download
Subscribe: Google Podcasts | RSS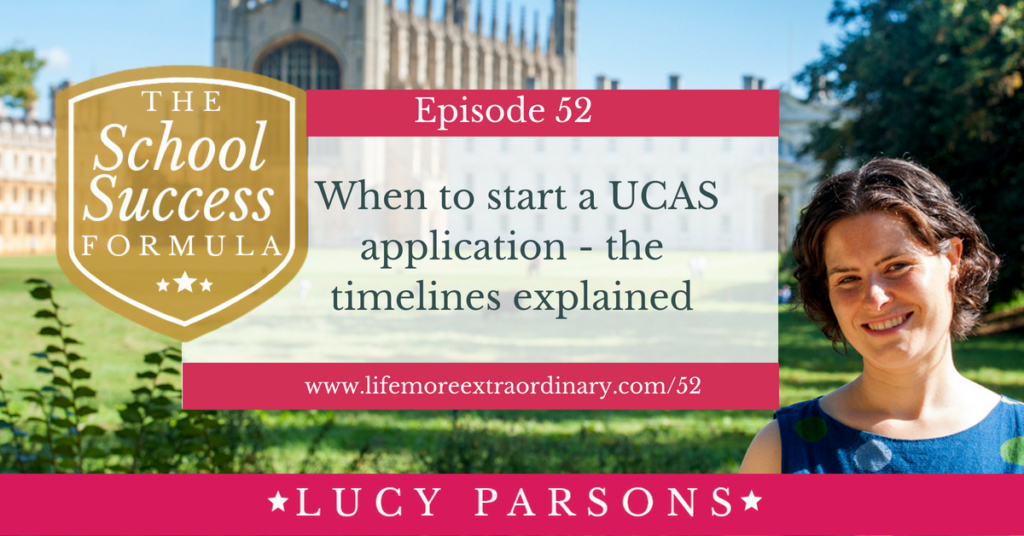 If your child is planning on going to university you're probably wondering how much the process has changed since you were at that stage, and what needs to be done when. In this blog post I'm going to explain when to start a UCAS application as well as all the timelines leading up to starting an application so that you and your child are fully prepared when applications open.
What is UCAS?
Just in case you're not already in the know, I thought it would be useful to explain what UCAS is first.
UCAS stands for the Universities and Colleges Admissions Service. On their website they say:
UCAS is an independent charity providing information, advice, and admissions services to inspire and facilitate educational progression.
They are basically the intermediary between university applicants and universities, handling all the admissions and making sure the right applications get to the right places and that the offers system is managed properly.
If you want to apply to a UK university, you need to submit your application through UCAS.
When can you start a UCAS application?
You can start a UCAS application at any time. However, you won't be able to submit it until early September. The dates for entry in 2019 are as follows:
Start an application – at any time
First date you can submit an application – 5th September 2018
Any course at the universities of Oxford and Cambridge, or for most courses in medicine, veterinary medicine/science, and dentistry. You can add choices with a different deadline later, but don't forget you can only have five choices in total – 15th October
For the majority of courses – 15th January 2019. (Some 2018 entry art and design courses have a 24 March deadline, so you can add these later; but don't forget you can only have five choices in total. 2019 entry art and design courses will have the 15 January deadline).
UCAS advises students to submit their application as early as possible:
Student funding arrangements mean that as offers are made and places fill up, some courses may only have vacancies for students from certain locations. It's therefore really important that you apply for your chosen courses by the appropriate deadline as not all courses will have places for all students.
Find out up to date information and more detail on the UCAS website.
If you apply after 30th June you will automatically be entered into the clearing process.
What comes before the actual application?
It's all very well talking about the dates that you can start typing your name and address into the form and pressing the submit button, but most of the hard work has to come before this. The rest of this post will talk about what actually comes before starting the application process on the UCAS website.
When should you start thinking about your UCAS application?
My advice would be that all students should be thinking about their UCAS application, at the very latest, by the summer of Year 11. This is because there is a long list of activities that need to be done in order to make sure that your child is:
a) applying to the right courses at the right universities
b) has the necessary material to put together a strong application and personal statement.
If your child is thinking about applying to the UK's premier universities, such as Oxford and Cambridge, and the very competitive courses at top Russell Group universities, they should ideally start thinking about this earlier in year 11.
What needs to be done?
What needs to be done before your child submits their application falls into two parts.
1. Research
Choosing which courses and universities to apply for are massive decisions. Your child is choosing where they are going to spend three years of their life, what they're going to learn and effectively set the direction for their working life, and quite possibly their personal life, for at least the next decade.
This means that they need to be carefully considering which courses appeal to them, by looking at university websites, and starting to visit universities to see if they like the vibe both socially and academically. The visits, in particular, take a lot of time, money and energy.
2. Preparing an application
Students don't just need to choose which university and course to apply to. They also need to prepare an application that is going to be irresistible to the admissions tutors in charge of their chosen courses. This will involve some of the below, depending on the course that your child wants to study:
Voluntary work
Following the news about their chosen subject
Consuming other media
Pursuing personal projects that demonstrate an interest in the subject
Completing an EPQ
Why does my child need to start so early?
As you will be able to imagine, all of the above takes time to plan and time to do. You can't just decide to do work experience at a vet's and start tomorrow. You have to find somewhere willing to take you at a time when you can make it.
If you think about it, most of the school holidays in year 11 will be taken up with revision. Part of the summer holidays in both year 11 and year 12 will probably involve a family holiday. This really doesn't leave many weeks in which to do all the things that I have listed above.
That's why you have to start early, making sure you're not caught out with the application deadlines approaching and nothing to include in the personal statement.
Also, remember, you put yourself at an advantage by applying early – it's obvious that the sooner you apply in the application cycle the more spaces will be available so the more likely your child will be to be offered a place.
Finally, the sooner you get this UCAS application business out of the way, the sooner your child will be able to focus back on their studies to actually get the grades they need to get in.
Would you like my help with all this?
If all of the above sounds a bit overwhelming, don't worry, I'm here to help you.
I have two different ways that I can support you and your child to go through the process I've outlined above.
Personal Statement Masterclass. This self-study course takes you through the process of:

choosing the right subject, courses and universities
preparing the things to write about in your UCAS personal statement that will show your commitment to and passion for your chosen courses
writing your personal statement, from the first sentence to the last, as well as editing tips.
Find out more about the Personal Statement Masterclass here.
2. Oxbridge preparation coaching. In this six-session package I support your child to make a competitive Oxbridge application.
Useful links
My book, The Ten Step Guide to Acing Every Exam You Ever Take.
Ten Steps to Exam Success download.
Lucy on twitter: @LucyCParsons
Contact Lucy by email: lucy@lifemoreextraordinary.com
(Visited 3,098 times, 13 visits today)