How to overcome obstacles to achieve your dreams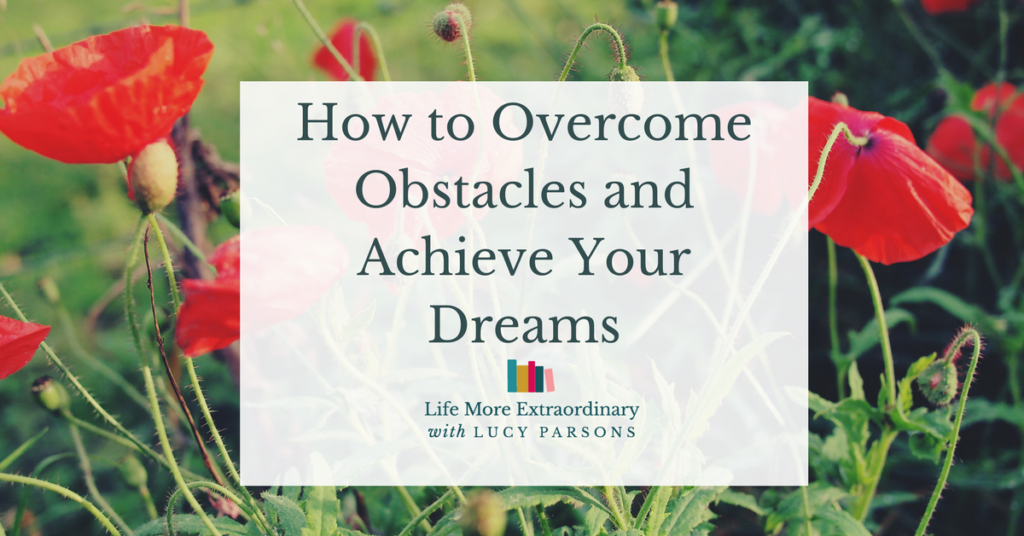 It was the summer of 1993. I was on an exchange trip in the south of France. The temperature was over 40 degrees.
Everytime I stepped outside I broke into a sweat and my French was so poor I could hardly communicate with the people around me.
But I had one salvation.
It was a book. A book called 'Testament of Youth' by Vera Brittain. It is her autobiography.
That book captured my imagination and became my obsession. Looking back, I think I was probably quite rude to my hosts. But I couldn't keep my head out of that book. I hid from the heat indoors and read, and read and read.
What captivated me about that book?
Vera was born into a middle class home in 1893. Her parents were conservative and traditional and did not believe in educating their daughter. They thought she should learn to play the piano, sew and do other gentle-womanly pursuits that would help to find her a husband.
However, they did believe in educating their son, Edward. he went to Uppingham School (a posh public school) and got himself a place at Oxford.
The trouble was that Vera wanted to go to Oxford too.
Overcoming obstacles
Vera's story is one of perserverance, hope and tragedy. She managed to overcome the fact that she was poorly educated and earned her place at Oxford. When World War I broke out she managed to persuade her Oxford college to let her become a VAD (voluntary, untrained nurse) for the injured troops. She managed to persuade the senior nurses that she had the necessary grit and gumption to be a nurse in the grim circumstances of World War I. She also overcame numerous personal tragedies during the war.
After the war she returned to Oxford, completed her degree and was instrumental in setting up the League of Nations, the precursor to the United Nations.
She was a truly remarkable woman. And she was remarkable because she overcame all the obstacles that were put in the way of her achieving her dreams.
Vera Brittain: @UniofOxford graduate, VAD and pacificist. A remarkable woman.
Click To Tweet
What are your obstacles?
When I get emails from people like you they're often about the obstacles that are in the way of achieving their dreams. Here's a variety of the problems that people come to me with:
There are always solutions to these problems and if you truly want to achieve your dreams you will overcome them. Vera Brittain fought the social norms of her day in order to get the education she hungered for. She tutored herself at home to pass the entrance exams and managed to persuade everyone from her father to her Oxford college to her matron during the war to give her a chance.
This is why the book inspired me so much. It was set during a period of history that I've always found fascinating, but it went beyond that. It showed me that my dream of going to Cambridge could be achieved. It encouraged me to forge ahead and find ways to get over my own obstacles. (It also helped that the story is also quite romantic, I've always had a soft spot for romance, particularly wartime romances).
How to overcome your obstacles to achieve your dreams
The first step is to identify your obstacles. What is it that is holding you back? Is it fear? Lack of opportunity? Lack of resources? Something else?
Once you know what your obstacles are you can trouble shoot them. If you're scared of a new situation, do something to learn more about it and familiarise yourself with it. If you lack resources, be resourceful. Google, go to the library, ask people for help and advice.
The most successful people are the ones who are adept at finding ways to overcome the obstacles put in their way. It's this talent that is actually what makes them successful.
The most successful people are the ones who are adept at finding ways to overcome the obstacles put in their way.
Click To Tweet
What obstacles are in the way of your dreams?
In the comments below, tell me what your dream is and what is in the way of achieving it. Then I want you to go away and brainstorm how you can overcome these obstacles and put your plan into action.
If you'd like to read Testament of Youth or watch the film you can purchase them from Amazon through my affiliate links. That means I get a small amount of money because you were referred through me. I'd highly recommend either for inspiring summer holiday entertainment, or as part of the Summer Reading Challenge.
(Visited 1,699 times, 10 visits today)