How to succeed in your exams even when no-one believes in you
This week I had an email from a reader that made me really sad. It said:
My Science teacher thinks that I won't reach a C. It's really put me down to think that I can't pass and it's made me give up on revising Science all together. I feel like I'm not getting any support from my teacher since they said that. Do you have any tips on how I can stay positive and not give up?
This is such an important issue. It's tough when people around you don't believe in you. However, it's important for you and your future success that you defy their expectations and succeed in your exams.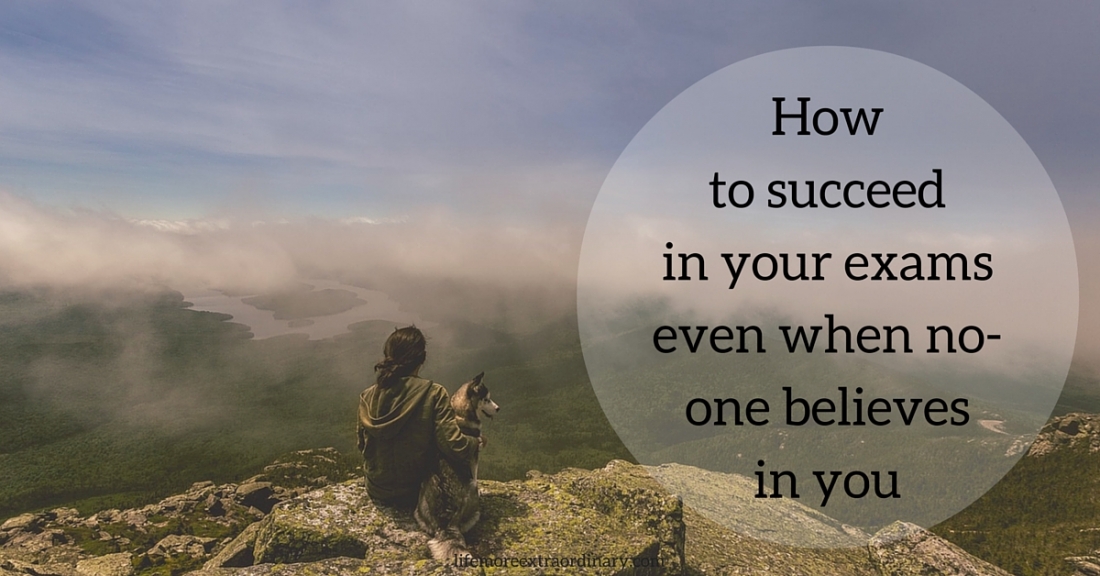 My teachers didn't believe in me
Back when I was at secondary school I didn't feel that my teachers believed in me.
I worked really, really hard all the time. I always handed homework in on time and was always really well behaved (even when my classmates where climbing on the desks pretending to be monkeys and the teacher was screaming like a banshee).
I was so ambitious, having decided that I wanted to study at Cambridge University while I was still at primary school.
I went over and above what was expected of me in practically every piece of work.
I pretty much always got good marks.
My school reports were complimentary but generally didn't recognise what I knew was inside me.
I found this incredibly frustrating and just didn't understand what I needed to do to show them what I was made of.
In the end I exceeded their expectations with my GCSE grades. I promptly left the school to go to a sixth form that seemed more supportive and well-equipped to help me in my ambition of going to Cambridge.
How to succeed in your exams when no-one believes in you
Prove them wrong
The biggest thing for me was proving them wrong. I was absolutely determined to prove that there was some special quality in me that they'd missed or overlooked. That determination paid off.
You're doing this for you
At the end of the day, your exam results are for you and no-one else. You're not doing this for your science teacher, your mum and dad or your pet goldfish. You're doing this for yourself.
Your grades are going to:
Help you get into sixth form or university
Help you get a job in the future
Give you self-esteem and self-respect
You may please other people or make them proud with your grades, but they're not going to change anyone else's life.
You're doing this for you.
Know what you're aiming for
Even if everyone around you seems to be sabotaging your attempts to get good grades, if you keep in mind what you're aiming for it will really help to keep you on track.
For me, this was getting a place at Cambridge. For you, it might be getting into sixth form college, becoming a lawyer, just doing yourself justice or having a better life than your parents have had.
Keep that goal in mind and it will help you to keep on track.
It's all in the mind
At the end of the day, I can give you endless tips and tricks to help you achieve exam success but really so much of it is in the mind.
You have to believe in yourself and your abilities. Of course, it helps when the people around you believe in you too, but it has to come from within.
Whether you think that you can or that you can't, you are usually right. ~ Henry Ford
Click To Tweet
Keep repeating positive affirmations to yourself about your abilities and this will help you to believe in yourself and go into your exams with the right frame of mind.
What next?
Now, stop reading this, start revising and go get those grades. Show those non-believers what you're actually made of!
Question: Do you struggle with your studies because people around you don't believe in you? How do you keep yourself focused on getting the grades you want?
(Visited 2,019 times, 18 visits today)