[38] How your child can get into a top American Ivy-League University with Veronica Moore
Podcast: Play in new window | Download
Subscribe: Google Podcasts | RSS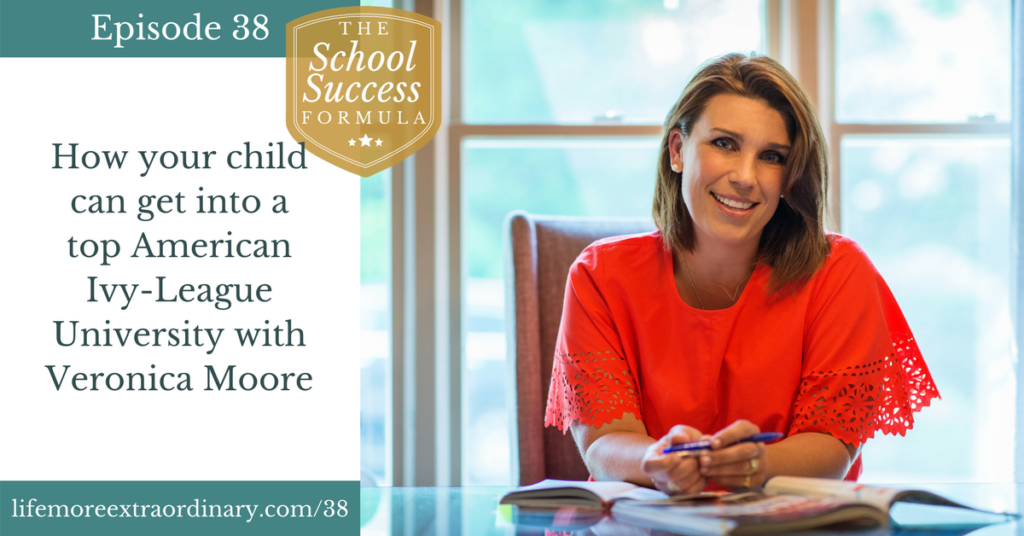 Some of the top universities in the world like Harvard, Princeton and Brown University are in the American Ivy-League. Parents and students in the UK often overlook the opportunity to apply for such a place because of costs, uncertainty of the application process, and so much more.
On today's show I speak with Veronica Moore, an expert in this field who works one-to-one with disadvantaged students in the US to help them gain a place. Veronica shares on the School Success Formula how UK students can get into one of America's elite Ivy-League Universities.
About Veronica
Based in New York, USA, Veronica is an experienced teacher and educator and holds a a triple-major Bachelor's degree in Anthropology, Biology, and Chemistry. Since 2002, she's been working with both students with special educational needs and those destined for the top US Ivy-League universities.
What you can expect to hear on the show
What are the Ivy-League Universities
What are 'shadow' Ivy-League Universities
What the difference is between the Ivy-League and all the other American universities
How to apply to an Ivy-League University
What makes a successful Ivy-League application
The importance of extracurricular activities
Evaluative vs Informational Interviews
How much degrees cost at American universities
Why students go on to do post-graduate study
Useful Links
Example transcript
Finding Veronica online
Exam Technique Masterclass
Is your child putting hours into their revision but not seeing any improvement in their results? In all likelihood, they need to focus on their exam technique.
On Thursday 29th March I'm holding an Exam Technique Masterclass where students will:
Learn how to identify content and command words so that they know what to write in their exam answers and take their queue from the question about how to structure their answer to get the maximum number of marks
The difference between level marking and point marking and how to get better at level marked questions
Find out how to efficiently and effectively plan and structure essays
Learn how to manage their time effectively in the exam so that they don't leave questions unanswered or shorter than they need to be
Have the tools they need to practice their exam technique so that they walk into the exam confident that they can do their best
Useful links
My book, The Ten Step Guide to Acing Every Exam You Ever Take.
Ten Steps to Exam Success download.
Supportive Parents, Successful Students facebook group
Lucy on twitter: @LucyCParsons
Contact Lucy by email: lucy@lifemoreextraordinary.com
(Visited 967 times, 4 visits today)