How to stop yourself from feeling lonely when you're studying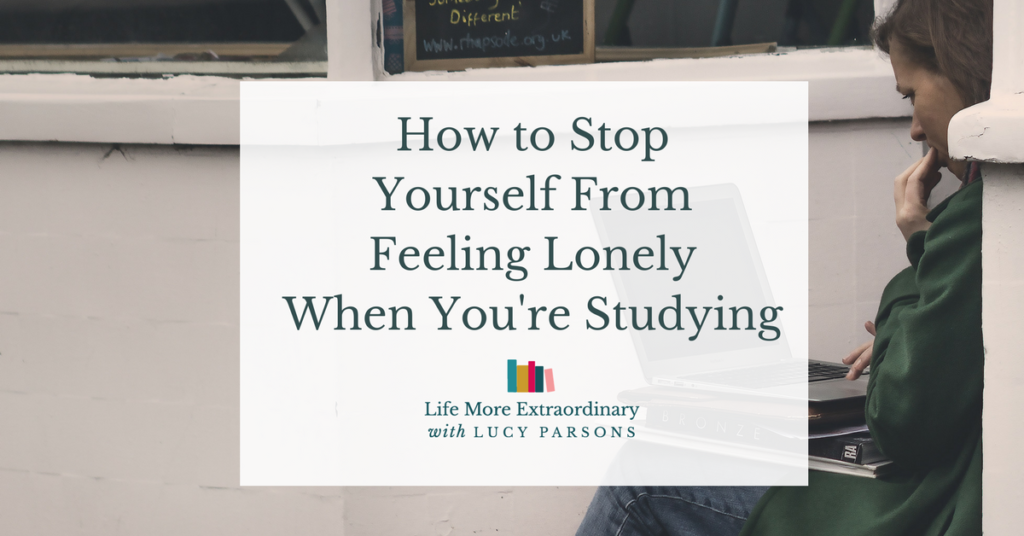 Loneliness can be a real problem when you're studying. It gets particularly bad in exam season when everyone you know is focused on their revision and it's hard to find good times in the day to maintain regular contact with others.
I have suffered from exam season loneliness on many occasions. When I was at university it was so bad that my mum actually had to 'rescue' me because I couldn't cope on my own any longer.
There are many benefits to preventing yourself from getting lonely when you're studying:
You will stay more committed to and energised about your revision if you don't feel isolated
You will be less likely to develop exam anxiety
You will be less likely to feel depressed
You will be more confident about your progress and what you're achieving every day
Today, I'm going to share with you six ways to stop yourself from feeling lonely when you're studying.
How to stop yourself from feeling lonely when you're studying
1. Take regular breaks
In the past, I've written about how important it is to take regular breaks, and particularly active revision breaks. However, it can be just as important to have contact with other people on your breaks so that you avoid that lonely feeling.
In short revision breaks try to speak to another person who is in the house or library with you. During longer breaks, do something fun with another person. I often used to play the word game Boggle with my mum. In longer breaks grab someone else and go out for a walk, go to a cafe or do a workout.
2. Have someone else nearby
It's not always possible to have someone nearby, particularly if you're studying at home and your parents are at work and your siblings are at school, but it can really help to stop yourself from feeling lonely. Just hearing them moving around the house, opening and closing doors and hearing the noise of the radio or TV in the background can be really companionable. You can then go and say 'Hi!' to them when you're on a break.
3. Study with a buddy
Some people really love to study in a sociable way. Even if this isn't your favourite way to study, if both you and your friend go to the library you can take breaks together and you just know there's someone else there to pass the time of day with.
When I was at university my college, Newnham, was blessed with truly beautiful gardens. In exam term, my friends and I would revise lying on rugs in the gardens on sunny days. It wasn't always incredibly productive but it meant we had company and we didn't miss all that beautiful weather!
4. Get a change of scene
Sometimes you just need a change of scene. You could move from your bedroom to the kitchen or dining room. Or, you could venture out to a library or coffee shop (or even the garden). One of my study skills coaching clients went on a study retreat to Spain – her mum took her work with her and they worked companionably together by the pool and on the balcony.
5. Keep up your regular hobbies
Are you a dancer? Do you play football? Are you a musician?
Lots of people give all this stuff up during exam season. It's very tempting to do this so that you can focus on your studies. However, I'd encourage you not to give it all up. It's a nice reward for all your hard work and it's a point of social contact. You do have to be sensible about how much you can realistically manage whilst doing all the study that you need to do.
6. Put the radio on
Failing all else, the radio is great company. When I was studying for my GCSEs I listened to Radio 1. I got to know the DJs like they were my best friends.
This doesn't work for everyone, and over time, as my studies got harder, I found that I needed silence. But it can work some of the time.
I would never recommend working with the TV on or video playing as the combination of sound and pictures is just too distracting. Stick to music radio to keep you focused and stop you from feeling lonely.
Over to you
I hope these tips have given you some ideas about how to stop yourself from getting lonely while you're studying. Do you have any other methods that you use? I'd love to hear about them in the comments below.
(Visited 23,099 times, 124 visits today)